The Vegas Showbirds on the thirteenth day of the trip, and the first day of the trip home.
Monday, June 25th - The Vegas Showbirds depart St. John, New Brunswick, Canada,
as we begin the 2,500 mile journey west, to return to Las Vegas, Nevada.
Traveling southwest to Bangor, Maine, and then on through New Hampshire and Vermont to Elmira, New York, where they stayed Monday night.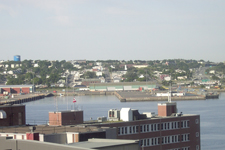 We eat an early breakfast Monday morning
at Shuckers, Delta Hotel's restaurant that overlooks
St. John's Harbor, a deepwater harbor that hosts
cruise ships and commercial fishing boats.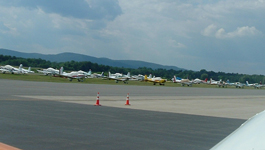 We stop for fuel and spot an aircraft fly-in happening.

Almost 100 Grumman aircraft are lined up near the
taxiways at Glenns Falls Airport in New York
(between Bangor, Maine, and Elmira, New York).

We stopped for fuel and were greeted by several
dozen Grumman pilots, sharing their flying stories.